December 11th at 6pm
Sotoa Building located at 500 W Overland in Downtown El Paso, Texas.
$50 donation ticket
Complimentary hors d'oeuvres and bar service provided by L&F Distributors.
AMOR POR JUAREZ FIFTH ANNUAL AUCTION.
In collaboration with El Paso Community Foundation, Amor por Juarez will be hosting it's 5th Annual Art Auction.
Each year Amor por Juarez organizes this event to raise funds for the operation of its various programs that help the youth of Juarez by leading them away from a path of violence and corruption and instead preparing them to be productive members of the society with a hopeful future.
These programs include afterschool workshops, full meals daily to unprivileged children and the contribution to revitalizing Juarez through arts and culture by creating recreational cultural spaces and events that are open to the public admission free.
Art pieces by local established and emerging artists with relations to the artistic and cultural scene in Juarez-El Paso will be auctioned. Among participating artists are: Gaspar Enriquez, Suzi Davidoff,  Francisco Delgado, Therese Bauer, Rachelle Thiewes, Zeke Pena , John Mckenzie, Brittany Anchondo, Lara Asam, Kristin Brice, Ricardo Chavarria, Luis A Colomo, David Corchado, Arturo Damasco, Yajaira Enriquez, Freddie Jauregui, Danny Jimenez, Jason Lucero, Leticia Luevanos, Manny Madole, Sarah Mayes, Deven James McCoy, Francisco Melendez, Briseda Ochoa, Juan Ornelas, Brett Powers, Carlos Rafael Ramos, Paola Rascon, Marco Sanchez, Monica Del La Torre, Laura Turon, among others.

Press & Media Publications
El Paso Inc.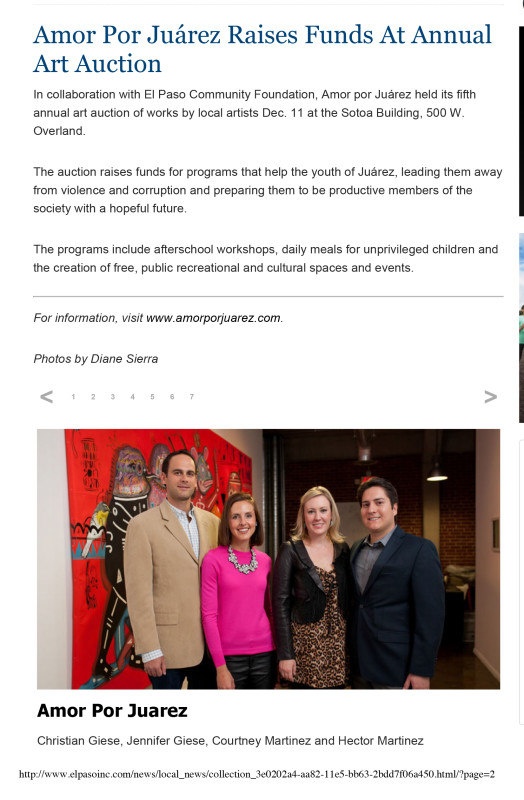 El Paso Times