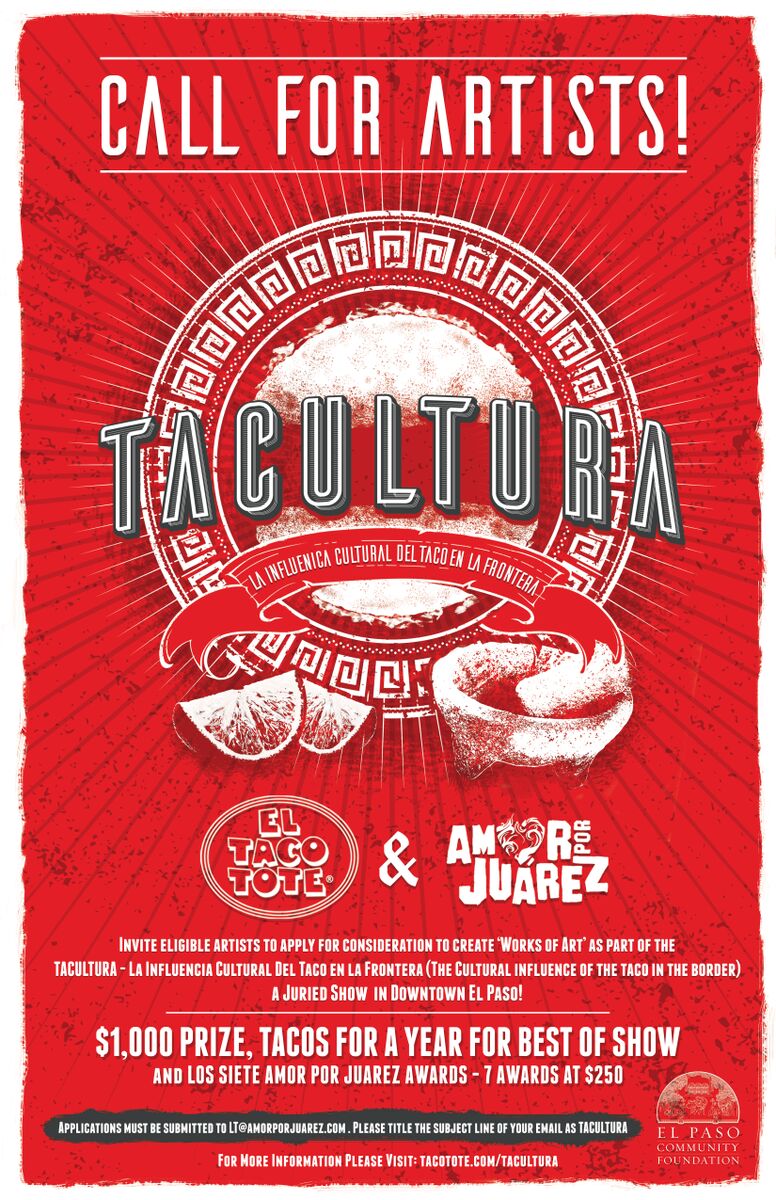 Call for Artist // DEADLINE EXTENDED – OCT. 5th 12 p.m.
Don't miss your chance to win $1000 and a year's worth of tacos from Taco Tote.
Application Deadline: Wednesday, Sept 30th, 2015, 11:59 P.M.
AMOR POR JUAREZ
Presents
"TACULTURA"
CALL FOR ARTISTS!
Taco Tote and AMOR POR JUAREZ invite eligible Artists to apply for consideration to create 'Works of Art' as part of the TACULTURA – La Influencia Cultural del Taco en la Frontera (The cultural influence of the taco in the border) a Juried Show in Downtown El Paso!
THE EVENT
TACULTURA is a Juried Art Show depicting the evolution of the Taco here in the El Paso/Juarez border area. This show will benefit AMOR POR JUAREZ sponsored by Taco Tote.
AMOR POR JUAREZ is a non-profit organization focused on the revitalization of Ciudad Juarez through Arts and Culture to promote a regional identity among the Citizens of Ciudad Juárez that can foster community empowerment, strengthen social and economic development, and garner international support with programs such as: ADN an after school program that provides workshops and daily full meals to unprivileged children. Meet My City, a program that provides a series of Art workshops about the history of the city to children from vulnerable areas. Juarez Contemporary, a Contemporary Art Gallery focused on the development of artistic and cultural events open to the public admission free.
All the selected artwork will be displayed at all seven Taco Tote locations.
RECEPTION
Date: October 22, 2015
Place: The Station Urban Offices 500 W Overland Ste. 250
Time: 6pm to 10pm
Complimentary Reception will be sponsored by Taco Tote and Jarritos.
Entertaiment: Lonchera Sound System
Open bar.
A $10 donation at the door in benefit of Amor por Juarez.
ELIGIBILITY
Participation is open to all Artists.
REQUIREMENTS
• Artwork must be an original created by the Artist and must be delivered by October, 18th 2015.
• A 1-page résumé outlining your qualifications
• An original and completed full-color image of your proposed artwork
• A description and explanation of your proposed artwork (200 words or less)
• Portfolio: Minimum of four (4) additional images of your past work
• All of the above requirements must be submitted in one document in PDF file format
• Final artwork size will be 8×4 ft (Canvas provided by Tacultura)
• Artwork must be an original creation of the artist.
• Artwork must be appropriate for public viewing and not be of any offensive nature.
• No advertising will be permitted on your images, including words, logos and symbols.
• Artist may not deviate from approved art piece unless approved by Amor Por Juarez and Taco Tote committee.
• Changing the piece result in disqualification and forfeiture of stipend.
• All art medium/materials on canvas are accepted
• All remaining selected artwork will be available for sale and 30% of proceeds will benefit Amor Por Juarez.
• All awarded artwork will become property of Taco Tote.
• All art must be gallery wrapped.
• I accept any award money as a purchase of my submitted art. Initials______
AWARDS
TACULTURA BEST OF SHOW – $1,000.00 & 1 YEAR'S WORTH OF TACO TOTE!
Los Siete Amor Por Juarez Awards – 7 awards at $250.00 each
HOW TO APPLY
Applications must be submitted to LT@amorporjuarez.com . Please title the subject line of your email as TACULTURA Call for entry. Incomplete applications will not be considered.
SELECTION PROCESS
Prior to the event, an appointed committee made up of Amor Por Juarez, Tacotote and Digitalbull Creative members will review artist applications and select the artists on a competitive basis to participate in TACULTURA 2015. Selected artists will be announced by October 2nd, 2015. On the day of the event, October 22, completed art will be judged and prizes will be awarded to winners in Los Siete Amor Por Juarez categories and will include a Best of Show Award.
MATERIALS
TACULTURA will provide each artist a 4×8 ft unprimed canvas. Canvases will be distributed on October 2nd 2015 at the Amor Por Juarez office 500 W Overland Suite 250 from 1:00 pm – 5:00 pm.
Applications must be submitted to LT@amorporjuarez.com
Incomplete applications will not be considered.
FOR MORE INFORMATION ON THIS EVENT PLEASE CONTACT:
Laura Turon: LT@amorporjuarez.com
ARTISTS MAY USE THE FOLLOWING FORM TO APPLY: