Mural Artist Fund
WALLS WITHOUT BORDERS

Since 2009, Amor por Juarez has supported some of the region's most impoverished neighborhoods and developed binational exchange through innovative and culturally diverse programs. Amor por Juarez recognizes the critical need for large-scale interventions that communicate the importance of educating our communities and our country that Latin(x) immigrants and residents are not only significant contributors to local economies, but Latin(x) families assimilate quickly while still maintaining rich cultural traditions that improve the quality of life for our community.
The "Walls Without Borders" educational mural program aims to educate El Pasoans about our community's history and relationship with migration and immigration, as it contributed to the cultural and economic development of our city. The murals will depict historical events that relate to each of the topics listed below, and easily accessible QR codes will lead participants to historical essays, videos, and activities that will contextualize the works of art. Our goal is to provide an engaging and interactive way to learn about the city's history while positively impacting the neighborhoods where the murals are located.
Walls Without Borders will ask artist teams to create five murals, using traditional muralist techniques and updated street art techniques to create images that capture the history and reflect on the moments of our times, while humanities scholars/historians Drs. Miguel Juarez, Roberto Andrade, and Doctoral Candidate Eric Chavez will provide reflections and essays that can be accessed via QR code directly next to the mural. Pablo Hernandez, VivaVoodeux, Babak Tavakoli, and Edgar Ivan Melendez Chávez, led by artist Paola Martinez, will paint using historical photographs portraits of historical figures in El Paso history to create the murals. Educational content for K-12 students and a link to crowdfund the next mural will also be available through the QR code. We aim to work with organizations such as Adventures in Learning to craft STAAR-relevant questions and follow-up activities so that teachers who wish to incorporate the murals into their curriculum can do so either by asking students to visit the murals in person or by visiting our website to pull the mural images, historical photographs, and activity sheets.
The mural topics will all explore the effects each topic has on immigration and the community's development. The topics are as follows: COVID-19; the Rio Grande; Black Americans in the border region; Asian migration; and Indigenous tribes in the region.
5 Artists
3 Scholars
1 Goal: To provide an engaging and interactive way to learn about the city's history while positively impacting neighborhoods across El Paso 
Thank you for the support and making this possible
-The Summerlee Foundation
-Hummanities Texas
-The Electric Company El Paso Electric
-Union Pacific Foundation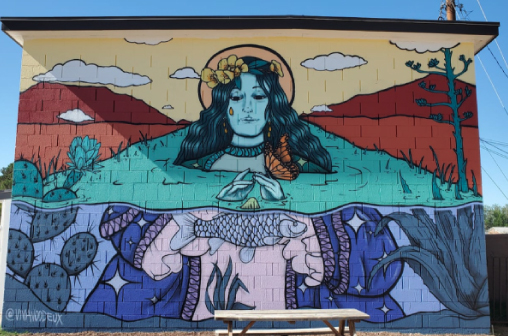 La Llorona
Artist: Voodoo
Writer: Miguel Juarez
Across Alameda 8069, El Paso ,Texas 79915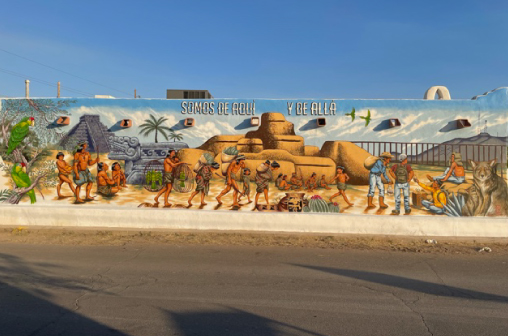 Somos de aquí y de allá
Artist: Pablo Hernandez – @pabs.tinta.sangre
Writer: Eric Chavez
Hacienda Apodaca at 10180 Socorro Rd.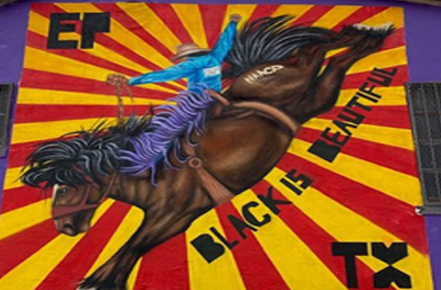 Artist: Paola Martinez
Writer: Eric Chavez
Loreto and Montana Ave. Intersection El Paso, TX
Artist: Benito – @DEKO_UNO
Writer: Martha Mendoza elespaciodemartha.blogspot.com
Plutarco Elias Calles # 2623 con esquina Óscar Flores Ciudad Juárez,Chih. Mex.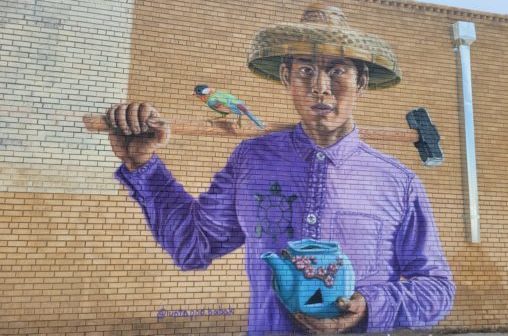 Artist: Babak Tavakoli – @untappd.babak
Writer: Eric Chavez
522 S Stanton St. El Paso,Tx 79901- Sam's Toys