Amor por Juárez, is a nonprofit organization based in Ciudad Juárez that promotes artistic and cultural development through the empowerment and training of citizens and local artists committed to reform the city not only into a platform for artistic expression, but into one of social, cultural and economic progression.
Amor por Juárez was founded in 2009 as a public awareness campaign intended to attract people back to Ciudad Juárez, the world's largest international border metroplex, during a period of regional turmoil. After the federal reorganization of 2012, Amor por Juarez emerged as a nonprofit organization with a renewed focus. Although grounded in its original intent to revive local and international interest in Ciudad Juárez, as a nonprofit, Amor por Juárez, turned its focus to cultivating a dynamic and diverse contemporary arts community with the potential to positively impact the city and the region in numerous ways.
In 2008, the escalating drug war plaguing México appeared to come to a head in Ciudad Juárez, making the city one of the most violent in the world and driving away businesses, tourists, and local residents alike, many of whom made their way across the border into the United States. Although debilitating, the influx of violence did not quell the heart of the city nor did it diminish the aim of regional leaders determined to end the negative publicity by restoring a positive public perception that could lead to a revival of social and economic exchange. And with that in mind, Amor por Juarez was born.
Now it has developed large-scale art interventions that impact a large population and hosted art exhibitions that provide a more intimate dialogue between the artists and community about our shared cultural identity in El Paso and Juarez. The organization communicates its message through public concerts, murals, and educational programs in Juarez and El Paso and has had incredible success at reaching a broad audience by hosting opera concerts, art auctions and providing scholarships to area university students.
We Love Our City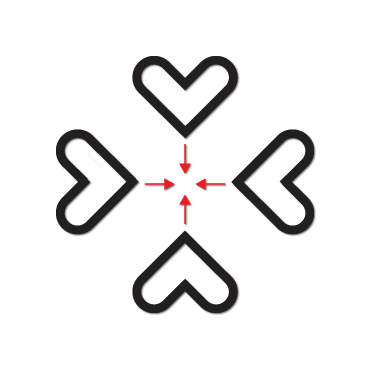 AMOR POR JUAREZ
Mission:
Position Ciudad Juárez/El Paso border as a region that supports and promotes cultural development not only in the heart of its citizens but internationally. Inspire people, including both local and international artists, to create projects that can empower a local community and transform the region into a major international global hub of artistic and cultural development.
Vision:
By promoting the local arts and culture, Amor por Juárez aims to stimulate urban reform through renewed cultural energy, increased cultural consumption, and improved external projection. We are committed to supporting projects that inspire and motivate local residents and other regional, national, and international artists and art enthusiasts to help us rebuild Juarez and unify the border region into one known for cultural development and cultural economic growth.
Objectives:
Promote cultural and artistic development by supporting arts of all kinds in the development and promotion processes
Create open and recreational spaces in Ciudad Juárez and El Paso for use in the cultural and artistic development processes that serve as locations for public engagement.
Promote a regional identity among the citizens of the Ciudad Juárez/El Paso border that can foster community pride, strengthen social, cultural and economic development, and garner international support.
Build strategic partnerships between arts and cultural institutions.
Board Members:
Ricardo Fernández
Dolores Torres
Samantha Fernández
Victoria Naranjos